Carrie Henderson, Executive Director, Flagstaff, AZ
Originally from the Chicagoland area, Carrie discovered her love for the outdoors at a young age on annual family vacations to the Black Hills and Badlands of South Dakota. While attending undergrad at the University of Illinois: Urbana-Champaign, Carrie worked in Yellowstone National Park for a summer and got her first taste of "big mountains." When she finally moved out west to Arizona in 2012, she knew she was here to stay. Carrie went on to receive her Master of Public Administration from the University of Arizona, making her way into nonprofit program and development work at AmeriCorps organizations and two food banks. Carrie spends nearly all of her spare time outdoors, trail running and hiking with her rescue dog, Chloe, rock climbing, paddle boarding, and camping. These days, most of her time is spent training for a 250-mile trail race! Carrie considers this position her "dream job" and looks forward to putting Wilderness Volunteers on a positive trajectory into the future.
Aidalicia Swertfeger, Program Director, Flagstaff, AZ
The Sierras have always captivated Aidalicia's heart. Having grown up in a tiny foothills town west of Lake Tahoe, Aidalicia spent her winters snowboarding and her summers exploring "Big Blue". Carrying a BFA in Communication Design with a focus on sustainability from Texas State University, she served as a Graphic Design intern for NOLS in 2017-2018. By living in five plus states throughout her adult life, the importance and value of accessibility to public lands for all has been cemented into her core. After her first WV project as a participant in 2013, Aidalicia became a project leader in 2014, and then WV's Program Manager in 2018, leading over 16+ projects in 10 states. During her downtime, Aidalicia enjoys hearing the nuances of storytelling through stand-up comedy, planning for her next adventure or "workcation" with her partner, spending time with family and friends, and/or appreciating the magic an ever-changing horizon can bring.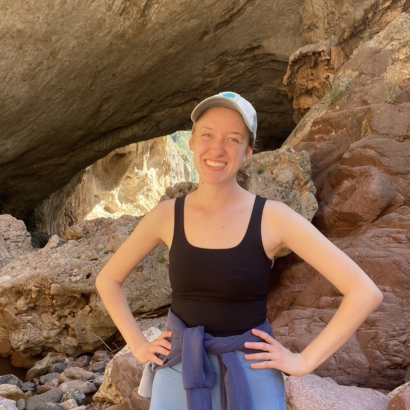 Jaclyn Kennedy, Volunteer Outreach Associate, Flagstaff, AZ
Born and raised in Cave Creek, Arizona, a town nestled in the foothills of the Sonoran Desert, Jaclyn was deeply rooted in this arid landscape before moving to Flagstaff, Arizona for her undergraduate studies. A drastic contrast to the Sonoran Desert, living in Flagstaff's ponderosa pine forests only deepened her love of the environment and her commitment to protecting it. Now a rising senior pursuing a degree in Environmental Studies at Northern Arizona University, Jaclyn is serving as an AmeriCorps member in the area of environmental literacy. She is delighted to work with Wilderness Volunteers and help them expand their volunteer base across the country as part of her AmeriCorps service. Jaclyn's free time is spent writing music and playing the guitar, as well as hiking and camping in the beautiful landscapes of northern Arizona.
Support Wilderness Volunteers!
Wilderness Volunteers is cultivating a passion for Wilderness! We are a national nonprofit organizing volunteers for stewardship projects in cooperation with public land agencies across the USA.